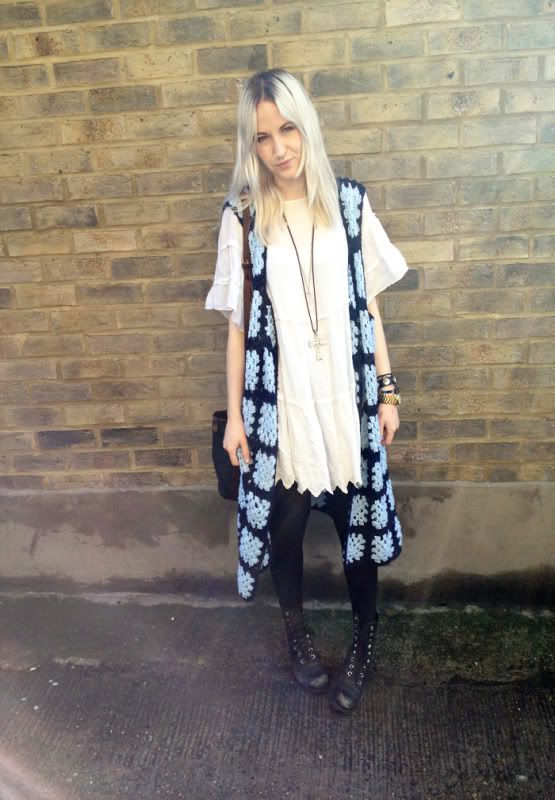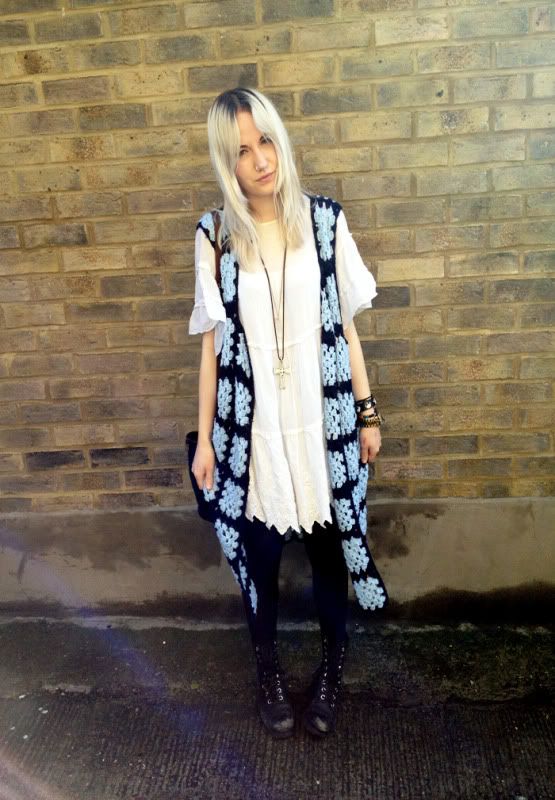 Today I'm wearing: Crochet waistcoat: Vintage, White dress: TFNC (old), Boots: Ebay, Necklace: Camden, Bag: Mulberry, Tail: Ebay.
It's finally sunny! Hence why I look a bit squinty in these pictures. I did wear a coat with this outfit, but not one I haven't posted on here like a billion times before. And PAYDAY TODAY. Finally I could buy the WAI VI KI style boots I saw on ebay! I've seen them on LOADS of blogs,obviously Wai Vi Ki's HERE and mainly Daisy's HERE and really wanted them as they seem like the perfect chunky platform boot, and will grunge up so many of my dresses come summer! And these boots and wearing have definitely seen better days. They didn't have my size on Wai Vi Ki unfortunately so I searched on ebay and found some slightly cheaper! however they are from China I think so are going to take ages to get here! Boo. Just type in chunky goth buckle boot. Haha.
I'm never sure what to put with this crochet waistcoat, I used to wear it like THIS, (my second blog post ever!) but am bored of that look now. I found this really old TFNC dress lurking in the back of the wardrobe, I think it was a beach dress? Anyway it's really floaty and has loads of material, and is perfect for the grungy boho vibe I'm (trying) to go for. I think next time I'm going to try a vintage tshirt? Just wish I didn't still have to wear tights.